Printed Pens Manchester

We supply a wide range of printed pens in Manchester, lots of styles and colours available to choose from.
Your company or club logo or slogan can be added to give personalised pens for promotions or special events or exhibitions.
Please click the link Printed Pens to see our range, or contact us for a prompt price and service.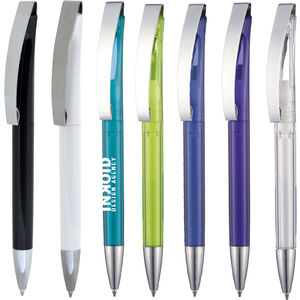 We are one of the UK's longest established suppliers of promotional
merchandise having been founded in 1987. We are experts in the sourcing and supply
of printed promotional items including pens, branded business gifts and corporate merchandise.
A&A Marketing Limited can offer all the industry's most popular and favourite printed
promotional items on time and on budget. Want your products fast? We can now offer a select
range of promotional items that we can brand and supply in just 2-3 working days.
"We have used A&A Marketing Limited for a number of years now. Their expertise and knowledge relating to the products they supply is second to none. We can always rely on them to deliver the goods, on time every time without the loss of quality and service."
Mario, Print Finishers
"Having used A&A Marketing Limited on a number of different projects I have to say the service I have received has been excellent. From idea stage to the final product the support they offer really is first rate. A&A always seem happy to discuss ongoing or new projects as and when support is needed and I would be hard pushed to find another design company that offers such great products at such reasonable rates, with the same amount of human support that they offer."
Josh, Voluntary Community Group
"
We've used A&A Marketing Limited for many years now. Whether it's been logo design, printing or marketing merchandise, they have always worked promptly on our orders. We rely on our service providers to assist us quickly and A&A have never let us down. In short, a prompt and reliable service. We'd highly recommend them to anyone in business."
Guy, Law Firm